Hardwood and Laminate flooring specialists
Re-fit or replace skirting boards to further enhance your new floor
We come to you, at home or on site.
Based in Bicester, covering all of Oxfordshire.
Bicester Based wood Flooring Installers
21mm Engineered Wood Flooring Mixed Widths
Boen Engineered Food Floors Pre-finished
QuickStep Floors Supplied & Installed
Skirting Boards, Architrave & Doors
Room Redecoration
Free Quotations
Here's some rustic oak in 3 different widths we supplied and installed in North Oxford. New skirting boards have been fitted. As the oak flooring covered most of the rooms, we have installed a flush threshold at the doors. I think this further enhances the overall look and breaks things up a bit.
The oak has been installed on to a concrete floor which we sealed with a liquid Damp Proof Membrane (DPM). We then fully bonded the floor using a flexible adhesive. The floor came pre oiled, we added 2 further coats of Osmo oil for further protection and a deeper shine.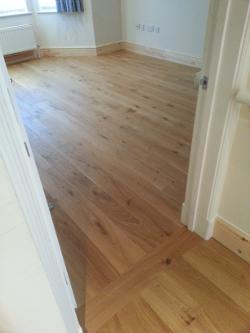 We supply and install premium engineered hardwood flooring and high quality QuickStep laminate flooring.
We come to you with samples from quality flooring manufacturers including Boen and QuickStep.
We also offer a range of skirting boards, architraves and doors to compliment your new floor.
Please take a look around the site, if your require a quote or any further information please call or email us.
We supply and install only the best quality, sustainably sourced products.
We look forward to hearing from you.
46 Somerville Drive Bicester Oxfordshire OX26 4TU | 07943 811213